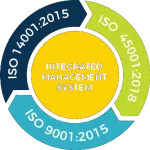 Integrated Management System (IMS) ISO 9001, 14001, 45001
We offer Integrated Management System (IMS) ISO 9001, 14001, 45001 Certification services globally. We provide 100% success guarantee for IMS Certification. We have extensive expertise and experience in all International Quality Certification Standards.
What is Integrated Management System ISO 9001, 14001, 45001?
An integrated management system (IMS) combines all related components of a business into one system for easier management and operations.
These are not separate systems joined together, rather they are an integrated management system with linkages so that similar processes are seamlessly managed and executed without duplication. IMS components common to all the systems include the resources (people, facilities & equipment, etc.) and processes (documented in the QMS/EMS/SMS and applied throughout the organization).
Why your organization should opt for an Integrated Management System
Advantages of an Integrated Management Systems:
Consistent objectives, planning, and document management
Implementation and Operation of the system cost less.
Easier internal audit
No Redundancies, reducing the chance of conflict.
We provide one of the most exhaustive suites of IMS Certification consulting services to help the companies plan, design, implement, monitor, control, improve and enhance their IMS Certification. Our IMS Certification consultants are known for being innovative, simple, practical and effective resulting in an implementation process that is value adding to the business operations of the organization.
We follow a well-documented approach for all certification requirements. We value time and understand how important it is for you to achieve certification in quick time. We believe in total customer satisfaction and customer delight. We are always willing to go an extra mile to keep our clients happy.
Roadmap to Integrated Management Certification
Below is a summary of our consulting Roadmap for IMS Certification
A complete GAP analysis of your company with respect to your Certification Requirement.
Training and guiding your team to implement best practices as per the certification guidelines.
Providing 24/7 access support to you team to build the documentation as per the certification requirements.
Conducting pre-assessment and Internal Audit.
Final Certification Audit by Certification body – Guaranteed Success!
In addition to the above, we also give free post-certification mentoring, guidance and training for 3 months.
Book a free inquiry with one of our consultants today.